Someone once asked me what it was like to teach eighth grade. My response was that it's like trying to fly a plane that's still being built.
While you have a general idea of what you are doing, what it's supposed to look like, and how it's supposed to behave, there are continually new alarms, sounds, and other random interruptions stopping you from getting to the "supposed to" version. This is what makes teaching fun, entertaining, and exhausting. As we enter the homestretch of this academic year, you as parent educators have experienced this just like teachers have for years. Welcome to the team!
For many years most of you have dropped your child off for school with little idea what they experienced in their days. You might have gotten a few sentences over dinner, but it's rare for parents and guardians to get a clear vision of how their kids processed the information they received, or dealt with the frustrations from learning, or relished seeing the information make it through to comprehension.
These are the beautiful gifts your children provided to their teachers every day — it's what keeps us coming back! As teachers, we're given the best and worst of your child every day. We get to see them each week and watch them grow and mature. We get to watch them become the people you are working so hard for them to be. And, for better or worse, we get to be a part of the process.
As this pandemic flipped the world upside down, you've gotten a front-row seat for the most challenging learning time your child — and their teachers — will ever encounter. None of us was prepared for this; there was no manual or instruction guide. We'd been cruising along and the plane was coming together nicely when, suddenly, the flight crew has to come along to pick up the pieces of your child's academic year. The good news is you weren't alone; there were teachers trying to give you instructions over the internet. Unfortunately, for many of you it felt like those instructions were coming out in Greek.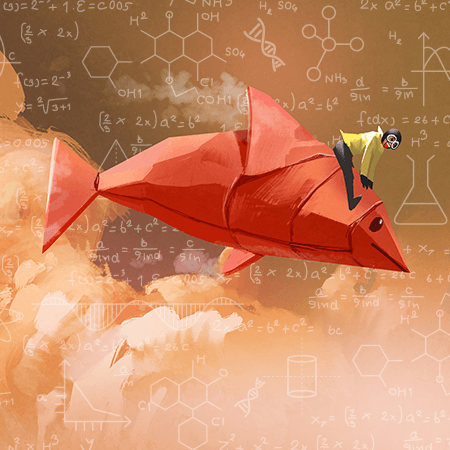 Some of our kids have done well with this switch to distance learning. It's allowed them to investigate their passions and dive deeper into the learning they love and want more of. And some of our kids have turned off learning remotely. Those kids need to have the hands-on instruction provided in the classroom and a teacher there to see them struggle. As a teacher, I can tell when a kiddo is struggling without them saying a word. It's in the way the pencil hoovers but doesn't connect to the paper, or the way they keep the book on the same page for five minutes while staring but not comprehending, or the way they make brief unintentional eye contact for a split second. That's when I can restate the instructions, without personally addressing the child, and help them with what they missed, and this further builds my relationship with the child. As part of the flight crew now, I'm sure you have learned that teaching the material is only part of the education process; the relationships are the other part, and they are vital.
What's been done to students' teachers and parents these last few months is unprecedented. There have never been expectations that a classroom teacher would teach from home, nor expectations for parents to teach their kids from home often while trying to work at the same time. When I was teaching, I averaged between 150 to 180 kids a day in my classes. Teachers are managing these numbers while navigating new challenges at home, like educating their own children. Similarly, you as parents are still juggling your own professional lives while trying to keep your kids learning. There's no history of these roles being performing simultaneously and for good reason.
There is much discussion around how (and if) we will return to traditional schools in the fall. I encourage you to join the conversation. Ask your child how they've felt the last few months, what they enjoyed, and what they struggled with. Consider what you've seen and learned from this experience as well. Perhaps there are lessons you can apply to your child's learning when things get back to "normal."
As you start to hear and see information regarding what the return to schools will look like, I encourage you to pause. There will be a lot of misinformation, so be sure to go to the source. Check with your state and district educational sites. Find out the whole story.
I was forwarded an email from a well-meaning teacher that read, "These are the rules for Texas to reopen schools." The list was comprehensive and stopped just short of requiring students to wear hazmat suits.
When I compared the supposed new requirements against what was on the Texas Education Association, I found official guidelines so rife with the words should and consider that it changed the entire tone of the list. It suddenly went from highly restrictive and almost unmanageable to wide-open and up to interpretation from individual districts and campuses.
The difference was comparable to "You must look both ways before crossing the street" and "You should look both ways before crossing." One is clearly required, the other is a suggestion. Place this in the context of your child's safety at school, and you can easily see the value of going to the source for the correct information.
The good news is this turbulent distance learning experience is coming to an end for many of you, at least for a bit.
You have survived and hopefully you and your child are no worse for wear. What a tiring and difficult challenge you and their teachers have met! Take some time to enjoy your successes, do some fun things, and enjoy a little bit of down time. Pay attention to what your district and school are planning for your child's return. It's too soon to say what fall 2020 education will look like, but now is the time to assemble your toolkit so you are better prepared for the adventure the new school year will bring. Keep in touch with your school's administrative team, subscribe to updates from your state's education agency if possible, and ask who else and what else might impact the environment and opportunities your child will face when returning to school.
You might not have meant to be a teacher, but you did it, and your child learned and grew as a result of your efforts. You need to be proud of what you have accomplished. Teaching doesn't get easier, and you can never possibly be prepared for every situation. Having a good set of tools, however, makes it easier to not panic when things get bumpy and you find yourself drafted into the flight crew of a half-built plane already in the air.
Fear not, though. We'll land this thing together.